01 July 2022
---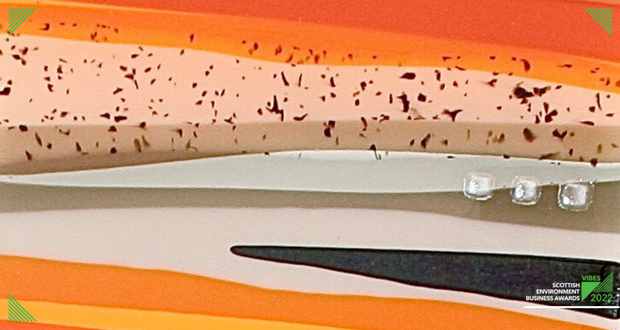 More than 40 firms across Scotland are in the running to secure a prestigious VIBES - Scottish Environment Business Award.

A record number of entrants for the 2022 awards have been narrowed down to 45 finalists – from across a range of industries including food and drink, construction and life sciences. They will all be considered for one or more categories ahead of the award ceremony later this year.

Scotland is famous for its culture of innovation, making it ideally positioned to play a leading role in the journey to a more sustainable, low carbon future.
The VIBES - Scottish Environment Business Awards are a partnership between the Scottish Environment Protection Agency (SEPA), The Scottish Government, Energy Saving Trust, Highland & Islands Enterprise, Scottish Enterprise, South of Scotland Enterprise, Scottish Water, Zero Waste Scotland and NatureScot.

Since 1999, the VIBES - Scottish Environment Business Awards has recognised more than 270 businesses that have championed sustainability by identifying ways to tackle the impact on the planet by reducing consumption of its resources. From increasing recycling and facilitating active travel to reducing consumption of raw materials by adopting a more circular approach, the dedication and drive of companies in Scotland at the forefront of tackling environmental change has been recognised by the VIBES – Scottish Environment Business Awards.

Gillian Bruce, chair of VIBES - Scottish Environment Business Awards, said: "Every year, the VIBES Awards highlight the progress made across Scotland to help move towards net zero. We see more and more firms and organisations who recognise environmental innovation and best practice can also bring economic benefits and it is always inspiring to hear entrants tell us about their work.

"Scotland is a leader in climate change action and every business can play a part in leading Scotland to Net Zero. We hope the finalists will encourage others to improve their environmental practices and help to safeguard Scotland for future generations."

Environment Minister, Mairi McAllan, said: "Businesses have a huge role to play in protecting our environment and tackling the twin crises of climate change and biodiversity loss and I would like to congratulate all those that have been shortlisted.

"The VIBES awards are a great opportunity to recognise businesses that are showing leadership in making their operations more sustainable as part of Scotland's journey to net zero."
Around three quarters of this year's applicants have entered VIBES for the first time. Two of the 12 categories - Nature Rich Scotland and Energy Transition Scotland – are new awards.

In the next stage, judges will interview each finalist or take part in a site visit, where finalists will be able to demonstrate their work. This will be fed back to the head judging panel, who will select the 2022 winners.
Full list of finalists:
Adelphi Distillery Ltd., (Ardnamurchan Distillery)
Aqualution Systems Ltd
Arran Dairies LTD Arran Milk & Arran Ice Cream Taste of Arran LTD
Balbeg Country Holidays
Beyond Green Advisors Ltd
BlueGreen Glasgow
Borders College
Bruichladdich Distillery Co Ltd
Dundee Rep & Scottish Dance Theatre Limited
Dunnet Bay Distillers Ltd
Edinburgh International Festival
Edinburgh Remakery
EGG Lighting
Frasers of Balmaha
Fresh as a Daisy (Dunblane) Ltd
Glasgow Chamber of Commerce
Green Action Trust
Hickory
Highland Meats
Highlands Rewilding Ltd
Hydrowheel Ltd
Innovatium Group
Kenoteq Ltd
KR Group
Logitech
Move On Wood Recycling
Multiplex Construction Europe
Omexom Morgan Sindall JV (unincorporated joint venture)
ReBlade Limited
Recyke a Bike
Redeem Exchange
Renfrewshire Council
Saltire Roofing & Building Ltd
SAMS Enterprise - Seaweed Academy
SAMS Enterprise - SIMBA
SRUC Elmwood Golf
The Highland Council
The Leith Collective CIC
ThermaFY Group
Total Homes Co-operative
University of Strathclyde
Verlume
Wood Recyclability
Woodlands Glencoe
YES Recycling Fife and Ecosheet
Share this
Media Enquiries
For all press & media enquiries, please contact:
The BIG Partnership
3rd Floor
Fountain House
1-3 Woodside Crescent
G3 7UL
0141 333 9585
vibes at bigpartnership.co.uk