14 April 2022
---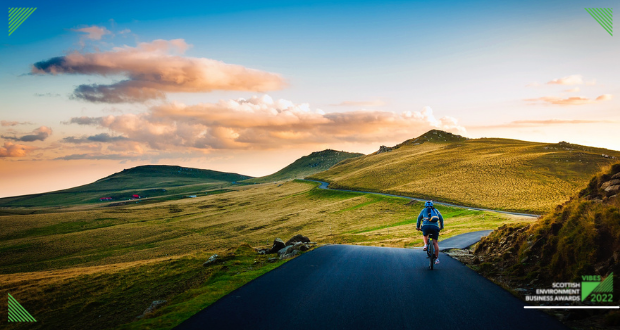 Scotland has set an ambitious target to become net zero by 2045, five years ahead of the rest of the UK. We all have a part to play in working toward this target and, by doing so, your business can improve its sustainability, efficiency, and long-term resilience, all while reducing carbon emissions.
As one of the largest emitters of greenhouse gases, transport must quickly evolve. How we all move from A to B (for business or leisure!) has, up until now, played a central role in triggering and escalating the climate crisis. The strategy we must adopt to tackle emissions and reduce the impact of transport is to shift toward low or zero emission mobility. From facilitating more home working to investing in electric vehicles, there are many different paths your business can take to reduce transport emissions. Here are some tips that can help you to tackle the climate crisis and achieve Scotland's (and your own) net zero target:
Take stock of where you are and plan for change
A crucial first step is to record and analyse your current transport modes and emissions. Installing telematics in your fleet vehicles is a great place to start which will shed light firstly on vehicle efficiency (allowing you to pinpoint any surplus vehicles that are underutilised and phase them out of your fleet) and secondly, to analyse factors like daily mileage and maximum required range (allowing you to choose the most suitable zero emission replacement vehicles).
Understanding your current transport modes, from employee commutes to business operations, will be the first building block when deciding the appropriate level of intervention and creating a sustainability strategy that is feasible and tailored to your needs.   
Implement a robust travel hierarchy
The sustainable travel hierarchy is a useful tool that can be used, across your organisation, to improve the impact of your journeys. Set your sights as high up the hierarchy as possible for each journey; the higher up the hierarchy, the lower your emissions will be!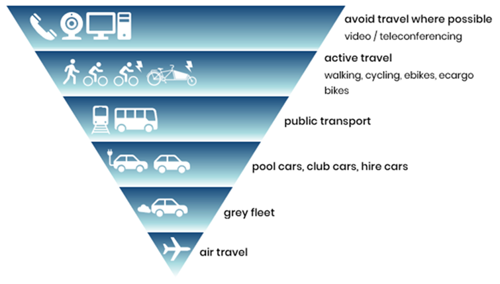 Active travel is at the top of the leader board. Either embedded in your business operations (e.g. carrying out deliveries using an ecargo bike) or adopted by your employees to move around locally (e.g. commuting to work using an ebike), walking, wheeling or cycling can help save money, boost wellbeing, reduce congestion and air pollution, and improve your ethical business credentials. You can encourage active travel by promoting the benefits to your employees, introducing a Cycle to Work scheme, and providing appropriate facilities at your workplace (e.g., cycle bays, showers, and lockers).
When active travel is ruled out, opt for shared transport. Public transport, pool cars, hire cars and car clubs offer a diverse range of low carbon and potentially lower cost options. With no maintenance, road tax or insurance, you'll only pay while you're on the move!
Adopt zero emission vehicles (ZEVs)
Adopting ZEVs and installing workplace charging infrastructure should be the next port of call. While decarbonisation of private vehicles does not resolve congestion in busy urban areas, replacing internal combustion engine vehicles with electric vehicles can play an important role in your business' decarbonisation plan. Both cost and carbon savings are making this option more and more attractive to businesses who want to save money (from lower maintenance costs, zero rate of vehicle excise duty and stepping away from the price of petrol and diesel) and address concerns around air quality and climate change.
Creating the right culture
Make sure to take your workforce with you along the path to net zero! Below are some tips on how to foster and maintain a transport culture change among your employees:
Communicate your sustainable travel plan to your employees. You could include your plans in your sustainability policy or mission statement.
Share fuel efficient driving advice and promote attendance at efficient driving training sessions.
Appoint 'sustainable transport champions' and 'ZEV champions' within departments; these may be people who are already enthusiastic about low carbon travel who will educate, promote, and encourage the team to get involved.
Encourage team building exercises that will promote active travel, e.g., step challenges.
Facilitate flexible working and home working so that your employees, especially those living in more rural areas, can avoid unnecessary journeys; this may involve taking measures to improve your business' videoconferencing technology.
Maintain awareness through continued promotion of sustainable travel options. You could include your transport plan and sustainable options in the induction process with new staff to ensure everyone is well-informed.
Inspire others
Inspire others to take action by sharing best practice and showcasing your experience through your website, social media platforms, blogs, advertisements or at events. Encourage your suppliers, partners, vendors, and wider network to change the way they operate, travel and transport goods. Contributing to the rising tide of low carbon transport will not only ease your transition but will make you and your supply chain more resilient in a new business environment that is better for both people and the planet.
Has your organisation already taken steps towards low carbon transport? Gain recognition for your environmental achievements: apply for VIBES2022.
Request your application pack now by emailing vibes@sepa.org.uk
Share this
Media Enquiries
For all press & media enquiries, please contact:
The BIG Partnership
3rd Floor
Fountain House
1-3 Woodside Crescent
G3 7UL
0141 333 9585
vibes at bigpartnership.co.uk