19 October 2021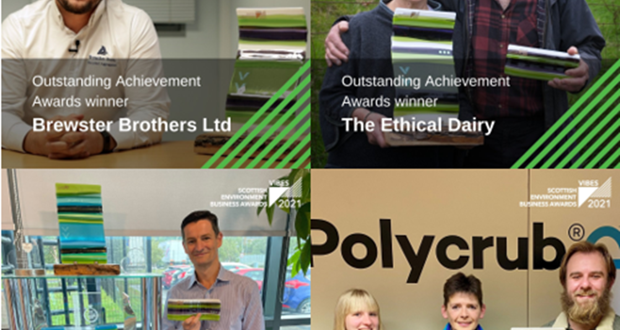 Four Scottish companies from sectors as diverse as construction and horticulture have scooped Outstanding Achievement Awards in recognition of their commitment to tackling environmental impacts and reducing carbon emissions. The VIBES Scottish Environment Business Awards were presented by Scottish Government Minister for Just Transition, Employment and Fair Work Richard Lochhead at a ceremony today (Tuesday 19 October).
The winners were deemed exemplars of good environmental practice at a time when tackling climate change has never been more urgent. As customers demand more from businesses in terms of environmental performance and global events like COP26 put climate change at the top of the political and media agenda, the VIBES Awards are showcasing how Scotland's businesses are driving change.
The winners are:
The Ethical Dairy in Gatehouse of Fleet is the first commercial dairy in the UK to use the cow with calf method, where calves are kept with their mothers to suckle. It uses natural systems to produce organic cheeses and luxury ice cream, offering a sustainable alternative to intensive dairy farming.
Motherwell based ACS Clothing provides fulfilment services for the fashion industry but with a focus on extending the lives of garments through rental services and refurbishing returned clothing to make it fit for resale. The company aims to reach net zero by 2030 and has made significant progress to date.
Brewster Bros. provides recycling services for the construction industry at its plant in Livingston. Not only is the company helping the sector tackle waste, but it has also reduced its own environmental impact by using renewable energy sources, improving biodiversity on site and significantly reducing water
Shetland company Polycrub began life as a small community project that has grown into a highly profitable business using waste pipes from fish farming to make high strength polytunnels that can withstand the harshest of weather conditions.
Minister for Just Transition, Employment and Fair Work Richard Lochhead, said: "With COP26 being held in Glasgow later this month, I am delighted to announce the winners of this year's VIBES Outstanding Achievement Award, and celebrate all the positive actions businesses across Scotland are taking to reach net zero.
"It is important that we recognise and celebrate businesses who are supporting our economy, our environment and creating a positive social impact. I hope the businesses showcased here today help to inspire others, as business action is crucial to achieving a just transition to our net zero future."
The VIBES Awards are a partnership between the Scottish Environment Protection Agency (SEPA), The Scottish Government, Energy Saving Trust, Highland & Islands Enterprise, Scottish Enterprise, South of Scotland Enterprise, Scottish Water, Zero Waste Scotland
and NatureScot. The Outstanding Achievement winners were selected from a shortlist of 12 Good Practice Award recipients following a rigorous judging process conducted by a multi-agency panel.  
Jo Green, Chief Officer, Green Recovery, at SEPA and one of the final panel judges, comments: "Businesses have a significant role to play in tackling the climate challenges we face, from providing customers with sustainable solutions to addressing their own operational impacts on the environment. What our winners demonstrate is that not only is this possible, but it is also in fact profitable.
"The principles of the VIBES Awards link closely with SEPA's ambitious 'One Planet Prosperity' strategy. Through collaboration, innovation and ambition businesses and communities can thrive within the resources of our planet."
VIBES chair Gillian Bruce comments: "Our worthy winners clearly demonstrated the business case for reducing their environmental footprint, showing not only a positive economic impact but social benefits too. Working towards net zero carbon emissions is a challenging but necessary journey. We hope they can inspire and encourage other organisations to examine their own business models and start to reap the many benefits of operating more sustainably."