28 November 2014
---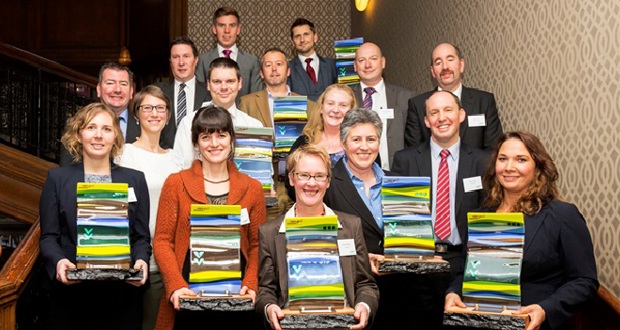 Ten Scottish businesses were today (Thursday 27th November) recognised as champions of business sustainability at the 15th annual Vision in Business for the Environment of Scotland (VIBES) Awards.
BAE Systems Naval Ships, Jessie Mac's B&B, Fife HARCA Ltd., IRT Surveys Ltd., Keenan Recycling Ltd., Peel Tech Ltd, Soilutions Ltd and Wind & Cloud Travel Ltd. were named as winners at a ceremony held at Glasgow's Grand Central Hotel and attended by over 300 people from a wide range of Scottish businesses and organisations. GRAHAM Construction and Celtic Renewables Ltd. received commendations.
The VIBES Awards is Scotland's leading environmental awards scheme. The Awards recognise businesses that contribute to the country's sustainable development by taking significant steps to improve or reduce their impact on the environment.
Each of the 14 finalists were subjected to a rigorous judging process, including a programme of site visits which saw the VIBES judging panel travel across the country to assess the environmental practices of the named finalists.
The awards aim to encourage efficient use of resources, enhance business competitiveness, improve environmental performance and support wider sustainable development goals. Awards were presented for each of the eight categories: Management (Large and SME), Environmental Product or Service, Transport, Co-operation, Hydro-Nation, Circular Economy and Micro Business. 
Gillian Bruce, Chair of the VIBES Awards, commented: "Each of our winners deserve credit for the work they are doing to improve their company's bottom line through sustainable practices. The VIBES judges were consistently impressed by the lengths that the winning companies have gone to in order to put environmentally responsible practices at the centre of their business operations."
Each of the VIBES winners is eligible to enter the European Business Awards for the Environment. In 2014 six out of the 12 entries representing the UK were chosen from previous VIBES Awards winners.  Edinburgh-based Vegware and Stonehaven's Bay Fish and Chips were selected as the only UK finalists in 2014, putting Scotland firmly on the map in terms of sustainable business practices in Europe.
The VIBES Awards is a strategic partnership between Scottish Environment Protection Agency, Scottish Government, Scottish Water, Scottish Enterprise, Highland and Islands Enterprise, Zero Waste Scotland, Energy Saving Trust and the 20:20 Climate Group. The Awards are further supported by CBI Scotland, the Institute of Directors, the Federation of Small Businesses and Bright Green Business.
Sponsoring the event this year are:
Business Stream
Albert Bartlett and Sons Ltd
ScottishPower
Scottish Government
Zero Waste Scotland
Lothian Buses Ltd.
NetRegs
Chivas Brothers
Highlands and Islands Enterprise
The University of Stirling Management Centre
The Awards are accredited by the RSA Environment Awards Accreditation Scheme
Share this
Media Enquiries
For all press & media enquiries, please contact:
The BIG Partnership
3rd Floor
Fountain House
1-3 Woodside Crescent
G3 7UL
0141 333 9585
vibes at bigpartnership.co.uk