VIBES Award: Changing Behaviour
Sponsored by: Chivas Brothers, Pernod Ricard
Highlights:

Environmental messages and statements are visible throughout the workplace to ensure staff and visitors are well aware of their commitments.
Decisions on suppliers and products are based on the associated environmental impact.
Environmental training is provided to suppliers.
Environmental themes are incorporated into job descriptions, training is provided and green suggestions are encouraged by management.
The farm hosts international visits, runs educational workshops and is committed to communicating their environmental message to the local community and further afield.
Hosted a recycling trial for Zero Waste Scotland and used as an example in a sustainable tourism DVD.
Active members of a local electric car sharing scheme which is accessible to all staff.
Report details of their carbon footprint and provide information on their environmental initiatives in monthly newsletters and on their website.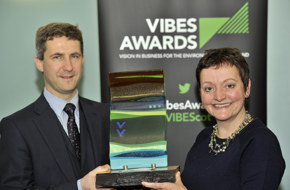 Whitmuir Organics Ltd is a working organic farm with a shop, restaurant and butchery, based in West Linton. The company has been a member of the Soil Association for 12 years and prides itself on being self sustaining.
The Changing Behaviour Award recognises businesses whose initiatives to change behaviour have helped deliver continuing improvement in environmental performance. These initiatives can be aimed at employees, customers and/or their supply chain. The VIBES Judges felt that Whitmuir Organics stood out as a business which is clearly driving behavioural change within staff, customers, supply chains and the wider community.
Throughout assessment of their application and at the site visit, the VIBES Judges were highly impressed by Whitmuir Organics' approach to the environment and sustainable food farming and how they are interacting with policy makers, regulators, community projects, schools and other local and international groups to both influence and raise awareness.
Whitmuir Organics was previously Shortlisted for the VIBES Awards in 2011; the company have continued to demonstrate that sustainable food production and the environment are central to their operation. They are challenging many preconceptions about sustainable food production and are committed to changing the belief that being organic is about "elitist food". Whitmuir Organics are also looking to the future and are working to become the first community owned farm in Scotland. This will secure their ambition for the farm to remain as a living learning space for years to come.
The company proactively communicates their environmental commitments to both staff and customers by:
Promoting their company ethos at a central point in the café with the message: 'The health of the soil, plant, animal and man is one and indivisible' by Lady Eve Balfour, founder of the Soil Association.
 Including statements on menus relating to the environment and sustainable organic farming.
Creating menus based on seasonal and local food.
Providing clear statements of action on their website.
The VIBES Judges were impressed by Whitmuir Organics' integration of environmental, ethical and sustainable approaches during staff training and new-starter procedures. The company actively seeks to hire employees who share their passion and interest in the environment and sustainability. Environmental training is incorporated into induction processes and the company aim to continuously engage staff by: offering quarterly training in areas such as Waste Minimisation and Sustainable fishing; establishing "green representatives" in  all areas of the business whose roles include reducing environmental impacts, and;  encouraging suggestions on environmental issues from staff during company  meetings.
Whitmuir Organics strive to remain accountable for their actions by basing day-to-day business decisions on their environmental ethos, including their choice of suppliers and products stocked. All suppliers and products must be certified as organic, if not the products are returned to the supplier.  Additionally, they deliver training sessions for suppliers in order to improve their understanding of sustainability in relation to their products.
The company is greatly involved in the local community and offer volunteering opportunities throughout the farm. These volunteering opportunities give people the chance to upskill and learn more about organic farming. They also offer training and learning opportunities to local schools, students, the disabled community, the local community and international visitors. In addition they provide allotments for local community use, accept green waste from the community for composting and offer free use of their electric charging point.
The Judges noted the environmental benefits of the organic farming approach Whitmuir Organics have adopted, such as the positive impact on conserving the local wildlife and habitats. Organic farming leads to nutrient-rich soil which grows stronger, healthier crops. The company has also reduced their energy use by 30-40% from the installation of an induction hob, replacement of an inefficient fridge and introducing Solar Thermal Panels and Solar PV's. They successfully harness 95% of their on-site solar generation. Whitmuir Organics are also committed to protecting biodiversity and work in conjunction with the Royal Society for the Protection of Birds on several projects monitoring various species. Their last survey reported bird numbers had increased by 50% in the area and recorded an increase in species and breeding.
Whitmuir Organics is a small business operating successfully with their organic, sustainable and environmental ethos. They have grown in 7 years from 1 employee to 27 and have the only online organic shop in the UK. The company have effectively managed to create a business in a rural area with a stable customer base, thus they provide strong evidence that it is possible to engage staff, suppliers and the community in their approach to help their business thrive.
Heather Anderson, director of Whitmuir Organics said: "We were honoured just to be shortlisted for a VIBES Award, as it's such a thorough process. Winning a VIBES Award in the Changing Behaviour category is wonderful recognition of the work put in over the last few years by our staff team and farm supporters, who all lead by example.  It will encourage us to keep going and do more in the years to come."