VIBES Award: Hydro Nation & Circular Economy
Sponsored by: The Scottish Government
Highlights:

AFM is made from recycled green glass bottles developed by Dr Dryden following years of research.
AFM has the potential to alleviate global issues with drinking water.
Initial findings of a whole life cycle costing indicate that AFM has a 30% lower operating cost in comparison to sand. A return in capital can be expected in less than 8 months Turnover has increased by 400% for air diffusers in the last 12 months.
Expect AFM sales to increase by 250% over the next 12 months.
10 new positions have been established at Dryden Aqua.
New site has been built and there will be a new infrastructure for glass collection and colour sorting that could secure employment for over 100 people in Scotland.
Working with Universities and Research Institutes to continuously develop their product and identify new uses.
Strong emphasis on collaboration, research and development.
AFM product is a good example of Circular Economy due to internal and external processes.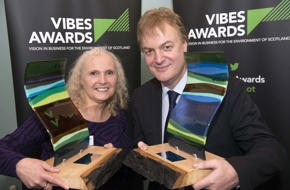 Dryden Aqua Ltd, located in Bonnyrigg, was established in 1980. Dryden Aqua is a research and development based manufacturing company specialising in water and wastewater treatment. A key product is the Active Filter Media (AFM) to replace sand in all types of sand filter. AFM provides better than 30% performance improvement over sand.
Dryden Aqua is an exceptional, small Scottish business who have been previously shortlisted for the VIBES Awards and won both the Hydro Nation and the Circular Economy Awards in 2013:
The Hydro Nation Award is an award for businesses that have demonstrated expertise in maximising the economic benefit of water resources in Scotland and/or internationally.
The Circular Economy Award is an award for the best entry to any category that has demonstrated the advantage of a closed loop (cradle-to-cradle) approach to material use.
The VIBES Judges felt that Dryden Aqua is an excellent example of Scottish innovation which has the potential to alleviate global issues with drinking water whilst considering recycling, waste reduction and reuse. The company is a key participant in the Scottish Government's Hydro Nation agenda, attending workshops, discussions and events, being positive about the aim to develop the value of Scotland's water resources, making practical suggestions and working collaboratively.
Dryden Aqua's AFM, made from recycled green glass bottles, is a unique invention developed by Dr Dryden following years of research. AFM can replace sand in drinking water filtration systems, and has the capacity to last the lifetime of the filter system (50 years). Unlike sand which performs less effectively over time,  AFM improves with age. One of the key issues with sand over time is the formation of a biofilm on the top which reduces filtration rate and can lead to "break through" events where the filter is short circuited, this does not occur with AFM.
This exceptional AFM product also has multiple environmental benefits. This product has the potential to utilise all of Scotland's used green glass converting it into a valuable product that can be used in Scotland and overseas, linking it clearly to Zero Waste agendas. Additionally, using AFM instead of sand requires less water to flush through the system for cleaning and settling process. AFM is more durable than sand and will reduce our reliance on importing sand into the UK (sand is a finite resource and there is a shortage in the UK).  As well as being used in drinking water filtration, the AFM can be used in swimming pools instead of current filtration systems. This can save companies energy on re-heating the water and also reduces the concentration of chlorine giving off less gaseous toxins.
The VIBES Judges noted that the development of the AFM product and a move from swimming pool and aquarium industries has significantly increased the business' potential for expansion and growth. This is already being demonstrated in the building of a new factory at the site to handle more waste green glass. The factory has no floor drainage so all wastewater is reused, nothing goes to the sewer, eliminating the need for a trade effluent licence. This, along with the use of waste product (glass) to create the AFM makes Dryden Aqua a fantastic example of a company operating an effective closed-loop system.
Howard Dryden, Managing Director of Dryden Aqua, said: "As a marine biologist, I am completely driven by two things: keeping aquatic environments safe and minimising chemical use wherever possible. Our AFM media, which is made from green glass, was designed as a water filtration solution for the aquaculture sector as well as for waste water and drinking water. We basically turn glass into a molecular sieve to take very nasty things out of water."
"After 10 years of R&D, AFM® is now recognised as a sustainable and significantly more effective replacement for sand. This means we can help industry in Scotland and overseas look after water, by utilising waste green glass which can be used again and again. We were absolutely delighted to win the very prestigious VIBES Hydro Nation and Circular Economy Awards. My sincere thanks to the VIBES team for all their hard work and for this recognition of our efforts and commitment to sustainability."