Sponsored by: The Scottish Government
Highlights:

Initiatives in the last 2–3 years have provided cost savings of ~£51,000, accounting for 17% of total energy and fuel costs.
Electricity consumption was reduced by 12% in 2010/11–2012, saving approximately 158,585 kWh/year, which is equal to 86,000 kg of CO2.
Carbon emissions were reduced by 11% versus a target of 5% between 2010/11 and 2011/12.
Gas oil consumption was reduced by 22% versus a target of 5% between 2010/11 and 2011/12.
Less packaging/tonne used by reducing packaging film micron from 50 to 30.
A change to energy efficient light fittings in the despatch and production areas has saved nearly £8000 a year.
There is a successful 'Green Team' on site to encourage buy-in from all staff on environmental issues.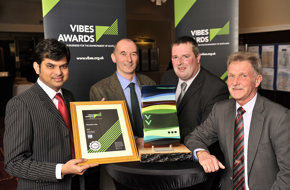 Branston is one of the largest buyers, packers and distributors of fresh potatoes in the UK. It has three sites in the UK, one of which is in Abernethy, where 136 people are employed. The main activities at this site are helping farmers who grow potatoes for Branston; providing an agronomy service; buying, grading, washing and packing potatoes, and despatching them to customers, including their largest customer, Tesco, across the UK. In total, around 130,000 tonnes of potatoes are bought and packed at this site every year.
Branston recognises that its operations affect the environment in a number of ways and is committed to reducing these effects wherever possible. The VIBES judges were impressed by the exceptional commitment to energy efficiency demonstrated by Branston. It was the first company in the UK food and drinks sector to achieve the Carbon Trust Standard (level 1), back in 2008. The Abernethy site has also been accredited to ISO 14001 continuously since 2003. Significant capital expenditure (~£500,000) has been made from measures to reduce energy use in the last 2–3 years, including those with long-term payback.
Recent achievements at the Abernethy site include:
a 15.7% reduction in mixed waste in 2009/10;
a 12% reduction in site electricity consumption in 2010/11–2012, saving ~158,585 kWh/annum, which equates to 86,000 kg CO2;
a 4.3% reduction in site absolute carbon emissions in 2010/11 from 2009/10 compared to the previous year;
waste generated from the site is recycled by the correct means;
an 8.5% reduction in gas oil consumption from 2010 to 2011;
a reduction in packaging per tonne, by reducing the packaging film micron from 50 to 30.
Economically, a change to energy efficient light fittings in the despatch and production area has saved ~£8000 a year. Branston has also installed an energy efficient air curtain in the 'intake shed', which has also saved around £8000 in fuel costs in six months. New waste compactors for cardboard and polythene have saved around £3830 a year on transportation costs. The company has also installed a voltage optimisation unit, which has saved around £17,000 a year by reducing electricity consumption on site by 12%. Finally, a change to fuel-efficient trucks means a potential fuel saving of around £7500 a year.
The judges were impressed by the company's engagement with the local community. Branston has helped the Woodland Trust on a community conservation project where volunteers from the company gave up days at work to be part of the project. The company's 'Green Team' initiative, which was set up to engage with and obtain buy-in from staff on environmental policies, this allows staff to take home best practices such as switch-off policies for lighting and equipment.
The company also conducts 'Grow Your Own Potatoes' events, where employees visit schools to encourage children to grow their own potatoes. Also, in association with Perth and Kinross Council, a Business Waste Minimisation event was organised at Branston's Abernethy site where local businesses were invited to see best practices in action and the economic benefits achieved.
The VIBES judges were also pleased to see that Branston is happy to share environmental best practices with other businesses through the Tesco '2degrees' programme. The company also participates in events organised by Zero Waste Scotland, Scottish Manufacturing Advisory Service, Green Business Fife, National Industrial Symbiosis Programme, the Carbon Trust, First Hydro Company and other groups to share their best practices and learn from others.