Sponsored by: The Scottish Government
Highlights:

Photovoltaic panels are used to generate electricity, some of which is used to provide energy for hot water.
An air-source heat pump has been installed, saving 80% on heating costs.
LED lighting is used throughout, which uses 80% less electricity.
Basins that have reduced water consumption by 64% since 2011 are used.
Biodegradable towels are used, which are composted, saving energy in the washing and drying of cotton towels.
They have signed up to a Carbon Trust management plan.
The business has attracted 25% more customers since a £250,000 refurbishment, 40% of whom were attracted by Élan's environmental credentials.
The salon is set to increase turnover over the next 3 years to more than £500,000.
Shortlisted for no fewer than 13 business and environment awards in 2012.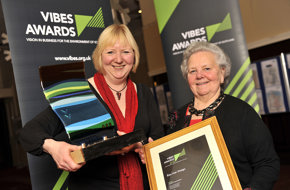 Élan Hair Design is an ultra-modern, eco-friendly hairdressing salon located in Inverurie. It offers a full range of hairdressing services and products, as well as spa and beauty treatments. The family-run business, which has been in operation for more than 40 years, currently employs 14 people.
Recently, the company underwent a £250,000 refurbishment in order to improve its environmental performance. The VIBES judges were made aware of the implementation of a number of energy-saving measures, including the installation of photovoltaic panels, solar thermal energy, fast-blade hand-dryers, air source heat pumps, low-temperature radiators and other energy-efficient equipment. It was clear to the VIBES panel that the environmental approach to the business is now central to its core values.
Employees have embraced the 'new' Élan with enthusiasm, while sustainability goals are embedded throughout the organisation.
All new employees are given an in-depth induction concerning existing environmental practices, for example recycling/composting systems, to ensure they are aware of how the systems work and that they are able to speak confidently to customers about the environmental focus of the organisation.
All staff members ensure that water is turned off between each step of the shampooing process.
Staff take part in Aveda training courses to learn about environmentally-friendly products.
Élan promotes sustainability throughout the business, particularly in the way it generates water and electricity. The business will see a substantial reduction in water, heat and power consumption over the next year. The VIBES judges could see that Élan generates across-the-board savings in overheads by:
using photovoltaic panels to generate electricity, some of which is used to provide energy for hot water
using an air-source heat pump, saving 80% on heating costs
returning unused energy to the National Grid
using LED lighting, which uses 80% less electricity
using energy-saving motion detectors and low-temperature radiators
using basins that have reduced water consumption by 64% since 2011.
Élan's energy efficient measures (for electricity, heat and water) are expected to save the business £3704 a year, according to the Energy Saving Trust.
Since completion of the refurbishment, the number of customers has increased by 25%, and turnover is expected to increase by 20% in 2013 from 2012. As a result of this increased demand, two new employees have been hired. The salon also helps to improve customers' awareness by sharing environmental news and information, as well as offering recycling/refill services.
Élan's new environmental approach has allowed them to create a niche position in a fiercely competitive sector. Élan is unique in the north-east of Scotland, as well as in the wider UK market, as it is the first UK salon to carry out such an extensive commitment to sustainability. It is also the first British salon to compost hair waste, recycle harmful aluminium foils and use carbon neutral furniture.
It was clear to the VIBES judges that the salon is committed to it's staff and the local community. The company sponsors a different charity every year and last year it raised £15,000 for Marie Curie through sponsored walks and bake sales.
Finally, the judges were delighted to hear that Élan wants to share its success through articles in hairdressing magazines and is also considering setting up a consultancy service for the sector.